Featured RVs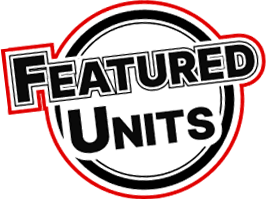 CLOSEOUT! LAST ONE AVAILABLE!

MSRP:

$130,360

Save:

$40,365

Sale Price:

$89,995

CLOSEOUT! LAST ONE AVAILABLE!

MSRP:

$21,166

Save:

$6,171

Sale Price:

$14,995

#1 Most popular floorplan in the world!

MSRP:

$35,506

Save:

$11,541

Sale Price:

$23,965

CLOSEOUT! LAST ONE AVAILABLE!

MSRP:

$36,345

Save:

$10,361

Sale Price:

$25,984

* * * REDUCED PRICE! * * *

MSRP:

$36,234

Save:

$10,246

Sale Price:

$25,988

* * * REDUCED PRICE! * * *

MSRP:

$36,715

Save:

$10,727

Sale Price:

$25,988

CLOSEOUT! LAST ONE AVAILABLE!

MSRP:

$43,625

Save:

$9,630

Sale Price:

$33,995

* * * REDUCED PRICE! * * *

MSRP:

$49,830

Save:

$14,835

Sale Price:

$34,995

* * * REDUCED PRICE! * * *

MSRP:

$51,443

Save:

$16,448

Sale Price:

$34,995

CLOSEOUT! LAST ONE AVAILABLE!

MSRP:

$53,559

Save:

$16,564

Sale Price:

$36,995

CLOSEOUT! LAST ONE AVAILABLE!

MSRP:

$50,539

Save:

$11,618

Sale Price:

$38,921

* * * REDUCED PRICE! * * *

MSRP:

$60,351

Save:

$20,422

Sale Price:

$39,929

* * * REDUCED PRICE! * * *

MSRP:

$63,821

Save:

$23,833

Sale Price:

$39,988

CLOSEOUT! LAST ONE AVAILABLE!

MSRP:

$64,885

Save:

$22,250

Sale Price:

$42,635

CLOSEOUT! LAST ONE AVAILABLE!

MSRP:

$64,784

Save:

$19,289

Sale Price:

$45,495

CLOSEOUT! LAST ONE AVAILABLE!

MSRP:

$67,413

Save:

$21,418

Sale Price:

$45,995

* * * REDUCED PRICE! * * *

MSRP:

$72,978

Save:

$24,996

Sale Price:

$47,982

CLOSEOUT! LAST ONE AVAILABLE!

MSRP:

$74,663

Save:

$25,001

Sale Price:

$49,662
Happy
Campers
Are easy to find at Harper RV
Teresa 

Great customer service. Helped my parents get a camper, which they had been saving and planning for years. Very helpful and made it a very fun and exciting experience.

Roger 

The people there were real great to work with. They would help you in anyway and I would recommend them to anybody that would want to buy a travel trailer.

Judy 

Thank you Harper RV, this was the most amazingly best buying experience we have ever had. Extremely friendly, honest and knowledgeable. Your patience with us jumping from trailer to trailer until the perfect one was decided on was also a great experience. On final day, walk thru and showing us everything and how it worked was very helpful, with hook up. Prices are great too! After searching for so long for price and quality we won with Harper RV!
Welcome to
Harper RV
Harper, KS
Harper RV is a family-owned and operated full-service Kansas RV Dealership dedicated to outstanding customer service. We strive to offer the best products, services and experiences for all customers through all of our services we offer: RV Sales, RV Parts, RV Service, RV Consignment & RV Financing. For over 45 years, Harper RV has remained a proud exclusive Jayco RV dealer which has allowed us to provide countless RVers with the perfect RV or camper fit for their unique camping needs.
Come visit us at Harper RV located in Harper, Kansas today to find the travel trailer, fifth wheel or toy hauler of your dreams. Our team of RV professionals is ready to help!